As we continue in a global economic downturn, every industry faces a set of challenges and opportunities.
SaaS is no exception. We've seen headlines of hiring freezes, layoffs, and poor stock performances. But fortunately, it's not all doom and gloom. Indeed, TechCrunch recently shared a bright spot that US venture capital activity in the third quarter was "far from catastrophic", suggesting that this could be an ideal time to build a SaaS business.
Recognizing the regional nuances of our industry, I'm interested in hearing from partners, customers, and other SaaS leaders around the world. Last month, I was lucky enough to visit G2's office in London and also spoke with SaaStock in Dublin.
The Accel 2022 Euroscape
At SaaStock in Dublin, I had the pleasure of connecting with Philippe Botteri, partner at Accelshortly after he and Accel VP Richard Kotite unveiled The Accel 2022 Euroscape. The theme of this year's report is "The Reset" — and introducing their analysis tells exactly why it's time to approach SaaS in Europe with a new mindset:
"On the public side, $1.6T in market capitalization has been lost in the global Euroscape cloud Index with average forward multiples falling from 17x a year ago to 6x today. On the private side, cloud funding in Europe, Israel, and the US decreased 42% in Q3.
Despite this much-needed reset, Accel noted that trends such as digital transformation and the move to the cloud remain strong. In addition, while the overall decline in funding in Europe and Israel is in line with what has happened in the US, we have still seen several rounds of investment taking place over the past 12 months.
The role of customer centricity in European SaaS winners
Knowing that it is still possible to win in a down market, who are the Euroscape leaders who collectively raised $8B? and, what are the keys to their success?
One commonality they share, which I am glad to know, is that they are motivated by higher scores and more G2 reviews.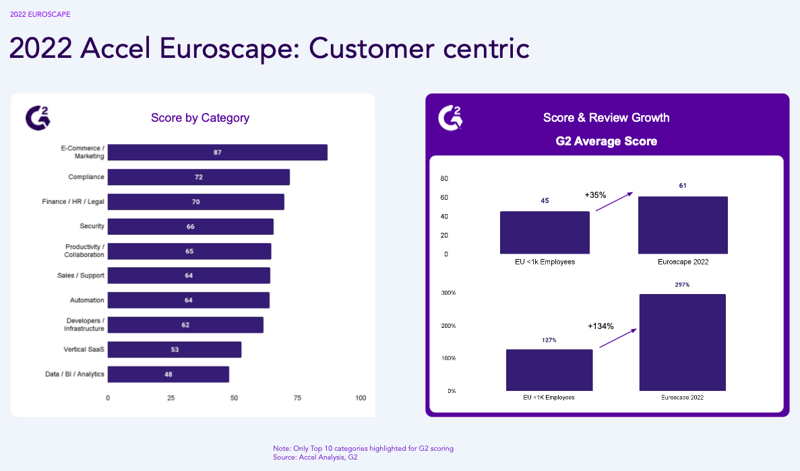 For context, G2 marks products and sellers based on 1.9M+ verified peer reviews gathered from our user community, as well as data gathered from online sources and social networks. With this approach in mind, European SaaS companies with higher G2 scores – and therefore with higher customer satisfaction – are more likely to become market leaders.
It's always important to have happy customers, but in times like these, it's important to redouble your attention to your customers as your most valuable marketing assets.
My takeaways and forecast
While SaaS investment is likely to decline for at least a few quarters, we remain very bullish on the prospects for European and global SaaS innovation and growth.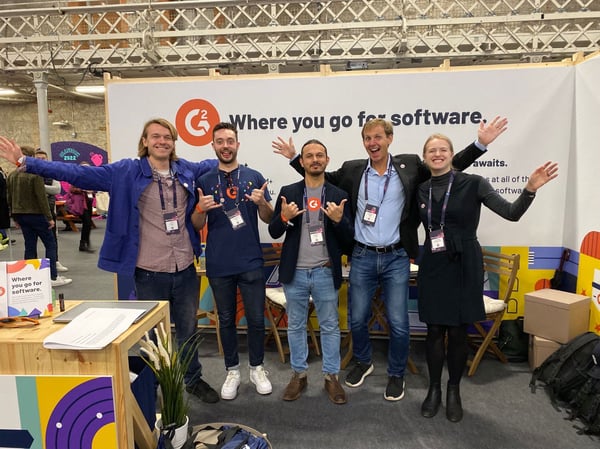 We met many high-energy SaaS leaders and entrepreneurs in Dublin who are building the next generation of high-value SaaS apps. Thus, we are confident that many world leaders such as UiPath, Celonis, and Miro will emerge from Europe.
We also share our 5 key lessons learned on how to cope with an economic downturn, providing additional insights on how to survive and ultimately thrive in these challenging times.